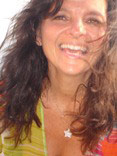 Brigitte and The Mega Way…in particular her Mega SHAKE…are all amazing…! The shake is so clean
and pure…it's has the best ingredients you can get on the market including HD
liquid vitamins…no comparison… above and beyond… the taste is unique…
different than all the others out there… great way to start the day… along
with having a quick shake throughout the day… when you're in a rush…or just
don't have time for making a FULL MEAL…the ingredients organic and clean…
energizing and completely nourishing…! 30 grams of protein in one 8oz
serving… Thanks Brigitte for your knowledge that you mix with so much love
and care… and your GREAT & DELICIOUS SHAKE…!!Easy to travel with as
well…! I drink the shakes before my workouts…and recommend them
highly to my friends and my clients…!!
Lissa Hakim, "Being" in Balance-Friend & Client-Los Angeles, Ca. Holistic Healer/massage therapist/ordained spiritual minister