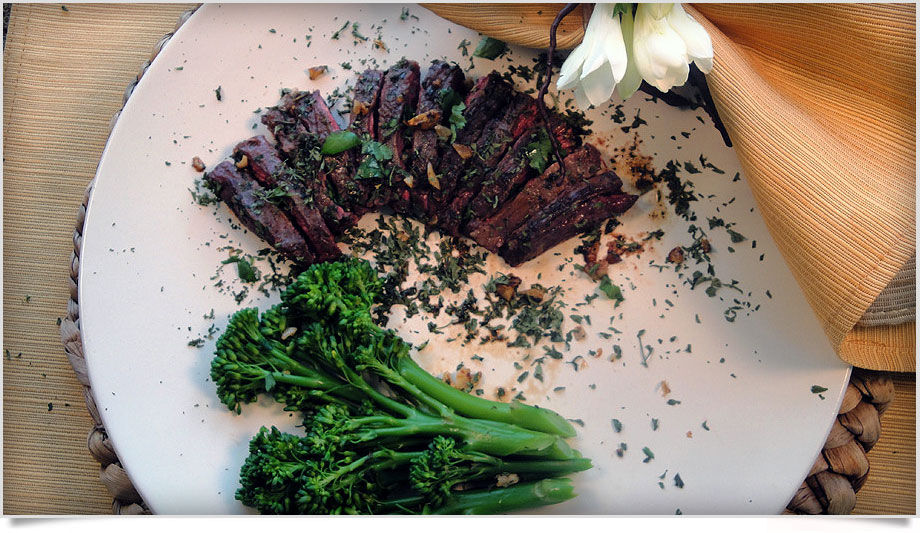 Original Holistic Recipes
Blood Type B
All Body Types

Roasted Garlic Skirt Steak with Sauté Broccoli
High Fat, High Calorie, Low Carbohydrate Day
Ingredients: Servings 2
2 - 4-oz. organic skirt steaks rinsed in cold water then pat dry
½ cup of fresh broccoli heads rinsed
2 peeled and crushed cloves of fresh garlic, ½ cup of chopped fresh Italian parsley
½ tsp. Montreal steak spice low sodium with no MSG, 1 tablespoon lemon pepper spice
Sea salt and black pepper sprinkled lightly, 2 tbsp. virgin olive oil
Directions:
Rinse steaks and pat dry. Place them in a flat plate and add spices on both sides evenly. Pre-heat non-stick sauté pan with grill on stove top med-heat, spray pan with Pam cooking spray, sauté ½ of crushed garlic till lightly browned. Place steaks in pan mixing with garlic and cook each side for 3 minutes or to your taste. In same pan add other ½ of garlic sauté well and add broccoli heads then cook the broccoli until it's done. Add fresh chopped Italian parsley over steaks and enjoy!
Daily Allowance Facts
Calories 375, Protein 30g, Carbohydrates 8g, Fiber 6g, Fat 30g, Sodium 140 mg
Health Benefits & Nutritional Facts:
Organic skirt steaks are high in carnitine and iron. They are a great source of protein which supports a strong lean muscular body. Parsley helps with anemia, digestion, hormone balancing and acts as a diuretic. It also assists in absorbing odors in the stomach that may cause bad breath and is high in natural calcium. Fresh broccoli is a fiber find. Not only is it a rich source, but half of its fiber is insoluble and half is soluble meeting your needs for both types of fiber. It is also rich in beta-carotene and vitamin C. Fresh garlic is one of the strongest, natural antibiotics and also assists in preventing parasites in the body. Virgin olive oil is a great healing oil and supports a healthy colon and heart and assists in lowering cholesterol.
Disclaimer: The Mega Way Program and Mega Way Shakes are intended for healthy adults age 18 and over. The books and program are solely for informational and educational purposes and are not intended as medical advice. Consult with a licensed medical or health care professional before you begin any exercise, nutrition or supplementation program or if you have medical questions about your health. These statements have not been evaluated by the Food and Drug Administration. This product is not intended to diagnose, treat, cure or prevent any disease.